How to Get 360 Waves + Top 7 Styles
Any man who wants to look his best will want to consider 360 waves on their hair as a fun and fresh take on a traditional style.
These waves look great on any man who is willing to take the time to create the waves. While they do take a little work to create, they are a fresh take on hair and look great on any black man.
How to Get 360 Waves Hair
The most important thing to know when considering these 360 waves hairstyle is how to get them. Men need to make sure that they are prepared with a very short haircut like a buzz cut and a wave-brush before starting. Regularly brushing short hair from the crown of the head and down is key.
Apply pomade and lotion to the hair when it is wet from the shower, and then carefully brush it into place, starting to train the waves. Regular trims to keep the hair short, but not so short that it won't curl, is important, as this will help to keep the style.
Finally, men who want these waves must wear a wave cap at night to prevent rubbing on the pillow and make sure to keep their hair wet and moisturized while brushing.
Watch the Following Video Learn the Process to Get 360 Waves on Your Hair
Coolest Wavy Hairstyles for Men
Coolest 360 Waves Hairstyles for Men
Here are the 7 most exclusive ideas for men that they can style with their 360 waves hair.
1. Full and Thick Waves
This is a great style for any man who has thick wavy hair and wants to show it off with his waves. The hair is allowed to be seen between the waves, rather than cutting down to the skin, which produces an attractive look.
360 style does take just as much work to maintain as other waves, but the end result is worth it and is perfect for a date night or in the office.
2. Waves with
 

Line Designs 
Men who want to know how to get 360 waves that still show some personality will want to consider this style. The waves have designs cut into the side, which ensures that they are anything but boring.
These designs can be anything that a man wants, but simple lines are always a classic and are sure to help men stand out in a crowd thanks to the fun and bold design.
3. The Heartbreaker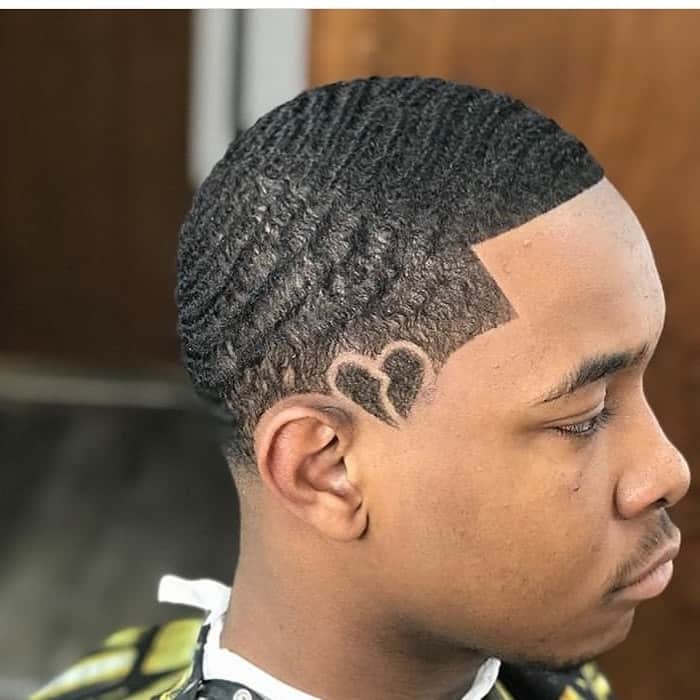 Designs are always fun in a man's hair, but men who want to wear their hearts on their sleeve will love the way that this design looks. It's a bit different than the traditional lines or swoops.
The broken heart is sure to attract attention, which is great for men who are interested in meeting someone new and want to use their hair to help express themselves and attract attention.
4. Red
 

Waves with Low Fade
360 waves look great on their own, but to really make them stand out, it's time to consider adding some red.
Red is a great color that will attract tons of attention and make people stop in their tracks, which is why it's such a popular color option for use on the head.
These waves are concentric circles from the crown and are made even more interesting thanks to the red and the low fade cut.
5.
 

Waves with Fade
This smooth style has a medium skin fade, which really helps to offset the waves on the top of the head. Rather than the waves being the main focal point of this style, the skin fade helps make them even more impressive while tempering their thickness and fullness with some skin.
A great fade is key, so it's important to only visit a trustworthy barber, which will ensure that there won't be any nicks or mistakes.
6. Fade + Beard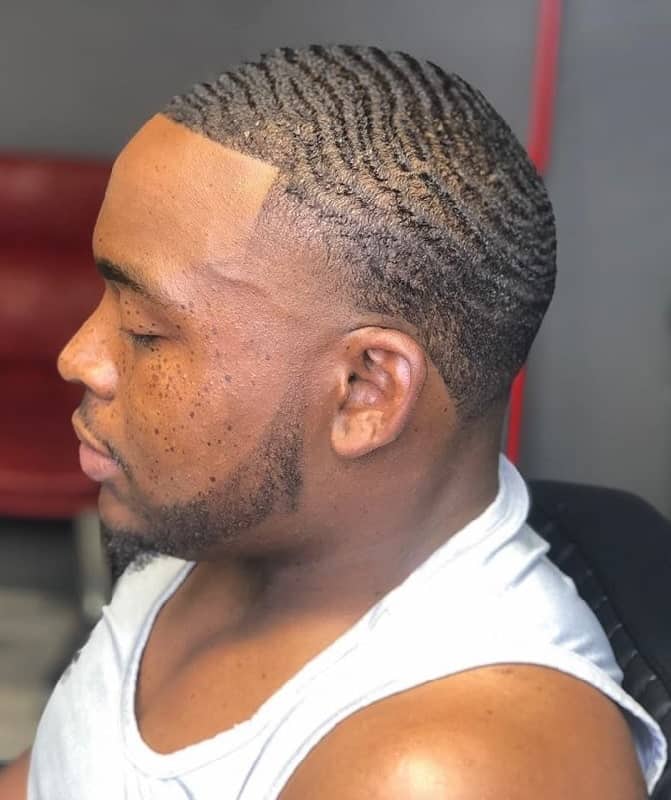 Sharp lines around the face, as well as an attractive and tapered beard, look great with waves. This additional facial hair ensures that the man wearing this temp fade with waves style looks attractive and very put together.
Ensuring that all of the edges are sharp and perfectly outlined really is key here, as doing so will ensure that the man looks clean and professional instead of unruly and messy.
7. High
 

Bald Fade + Part
360 waves hair looks exceptional when paired with a part and high bald fade. The contrast between the bald fade and the waves is impressive and is a great way for a man to draw plenty of attention.
In this case, a strong edge or line is important, as it will help to improve the overall appearance of the style and cut and prevent the hair from looking at all messy.
360 waves take a little while and some work to form, but they are worth the effort. This is an impressive style that men love, but only if they are committed and willing to put in the work to get the waves they crave.
Working with a trusted barber is also key, as this will ensure that the hair is cut in the right way to help promote curling and healthy growth, instead of cutting the hair in a way that will prevent these curls from easily forming. - Source: hairstylecamp