The 21 Best Curly Hairstyles for Men
2021 It's time to embrace the curl.
Believe me, I know curly hair can feel like a hassle. It's easy to look at other dudes with stick straight hair and think they have it easier or that they have more options. But curly hair has texture and can have volume, two things guys with straight hair want and can rarely get without the help of products and professional intervention. The grass is always greener on the other side, am I right?
Curly hair has a mind of its own and the impulse for lots of curly guys is to cut it very short, if only to make it easier to style and cut down on maintenance. And curly hair maintenance, while we're on the subject, is very different from straight hair. Curly hair shouldn't be washed as often because it can dry out easily, heavy products ,like thick pomades aren't usually as good for it as moisturizing styling creams, and air drying can take hours. But that's also the beauty of curly hair. If you take care of it and don't try to control it too much, it can look absolutely amazing.
Hair texture varies and even guys with curly hair don't all have the same type of curly hair. But whether your hair is tightly coiled or more of a wave, there are a variety of cuts and styles that can bring out the natural texture and allow you to embrace your curls with confidence and panache. Allow this list to show you exactly how cool curly hair can be.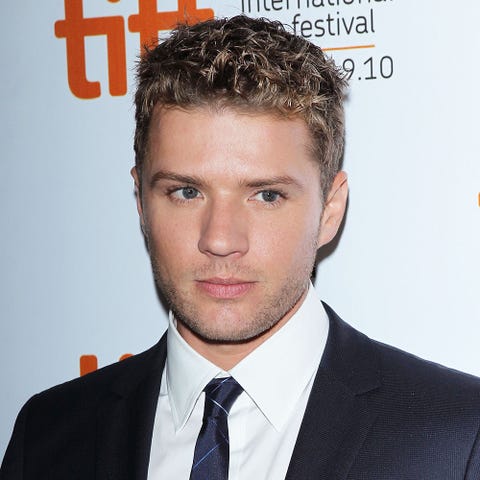 As seen on Ryan Phillippe
Instead of keeping hair too short to curl, this longer variation of a classic crew cut allows natural texture to show through, especially on top. Keep the top a medium length to allow for shape, but not so long that your hair fully curls. Style it with a styling cream or cream pomade for a little bit of shine and hold without a greasy look.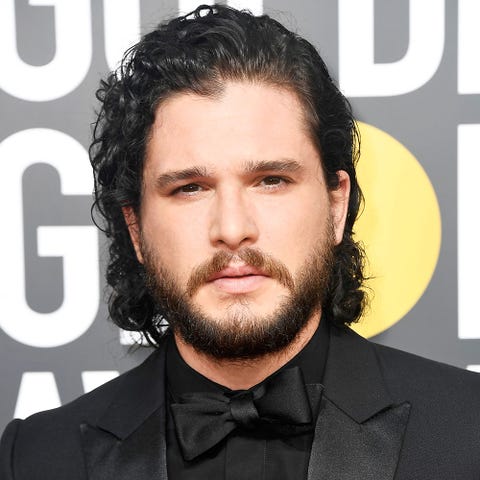 As seen on Kit Harrington
Curly hair looks great when there is enough length to really show it's texture. Case in point, this long 'do made famous by the King in the North himself. It takes patience to get hair to this length, especially if you're growing it from a short style, but the payoff is a big one. Whether it's tucked behind your ears or left to flow, a longer style like this is a showstopper.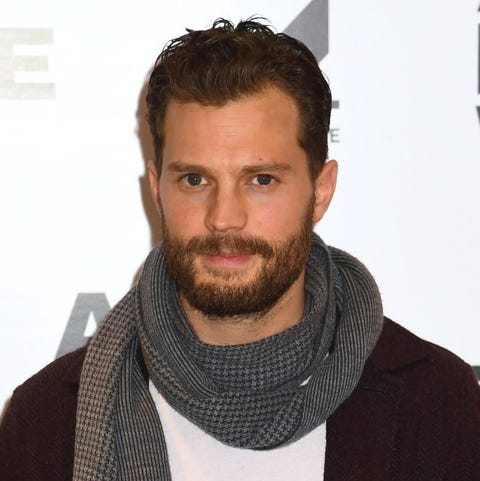 As seen on Jamie Dornan
Yes, you can have a beard and curly hair without looking like Grizzly Adams. The key here is the relatively short length on both the haircut and the beard. Keep the beard trimmed neatly so it provides contrast to the natural texture of your hair. Ask your barber to trim the sides of your head, but leave length on top for the natural curl to pop out.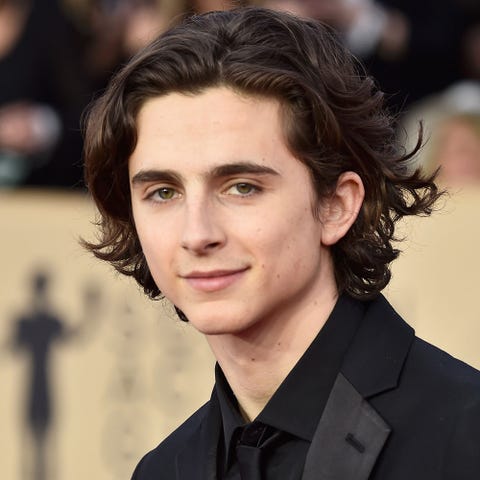 As seen on Timothee Chalamet
All it takes to achieve a look like this is patience; don't touch it for a few months and resist the urge to get it "shaped" or trimmed by a barber. Once you have enough length to tuck behind your ears, then you can get it cut into a mild wedge shape. A longer length will bring out curls and waves in your hair and using a matte styling cream will help make it look piecey and windblown.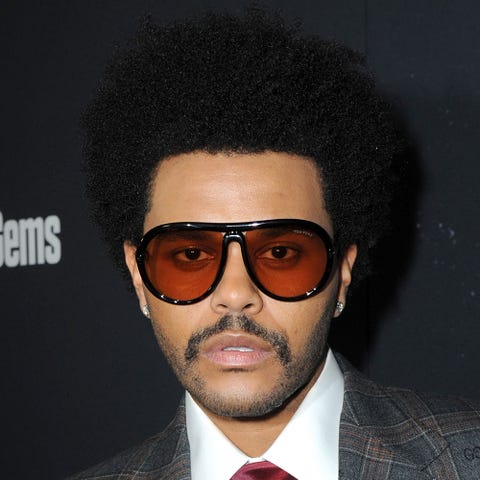 As seen on The Weeknd
Tighter, coily curls tend to grow up instead of down; lean in to it! This is not the perfectly round afros you might be thinking of. Instead, ask your barber to shape it so there is more length on top and with a gentle curve down to your ears. Don't go for smooth finish—leave it slightly shaggy around the perimeter to allow the texture to make it look cool and casual.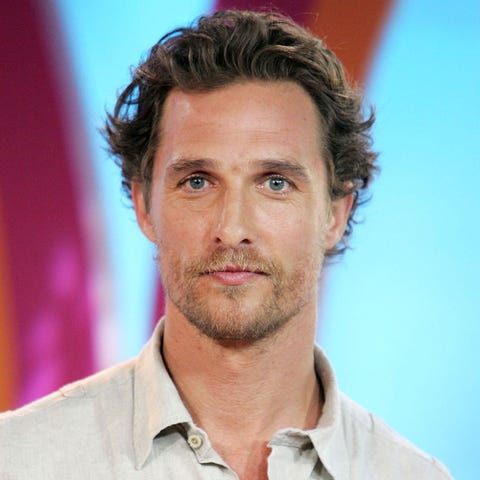 As seen on Matthew McConaughey
You can't get a cut like this with a clipper. Ask your barber or stylist to give you a scissor cut, which allows for a more gentle shape and can bring out your natural texture. This is not a slick, groomed look. When hair is damp, spray on some salt spray to give that just-off-the-beach piecey look, and then let it air dry however it wants.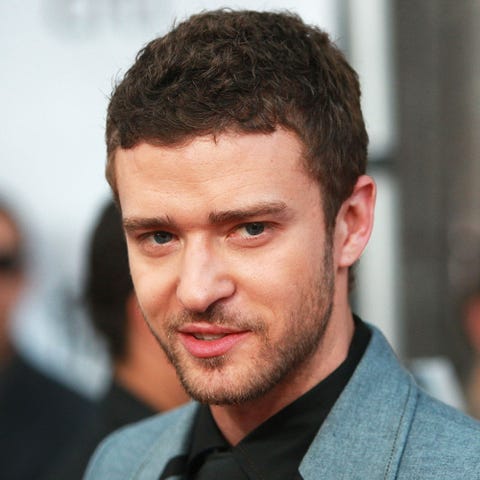 As seen on Justin Timberlake
Not every style for curly hair has to be long and windswept. If shorter hair is more your vibe, that's cool. Still ask your barber to avoid clippers and use scissors to create this crop to preserve some of the natural texture even when it's short. Note that there is little to no fade—you want a uniform length on the sides with only slightly more on top.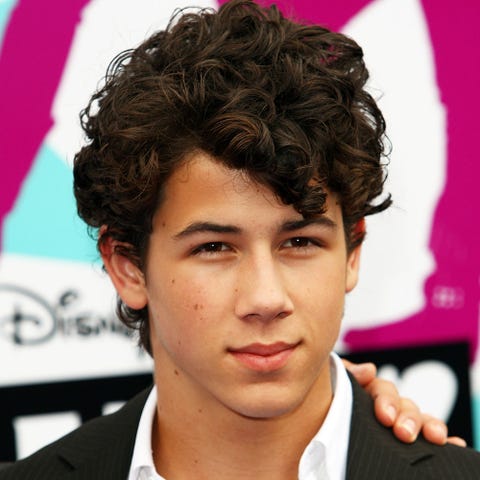 As seen on Nick Jonas
Remember when I said curly hair can have volume? Case in point, this style that uses natural curl to its advantage to create height on top. Leave the top long enough that hair can have a few full curls and the sides only slightly shorter. To style, spray a volumizing spray on damp hair and then use a curl cream to create smooth, defined curls.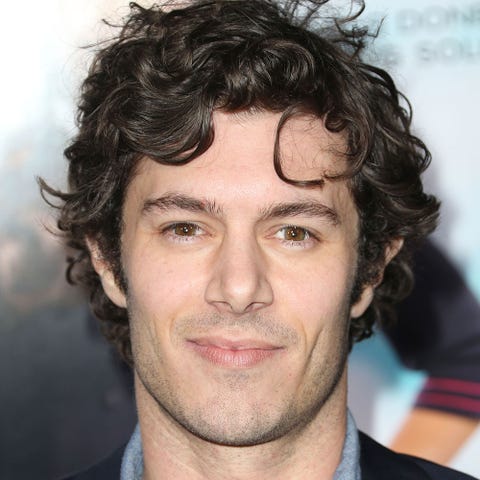 As seen on Adam Brody
This cut shares a similar shape with the previous style, but isn't quite as finished. You still want enough length that your hair can fully curl several times (or if you have wavy hair, it has a defined wave). The difference is that this style is way more casual. Use a salt spray or a light styling cream on damp hair and let it air dry naturally for this devil-may-care look.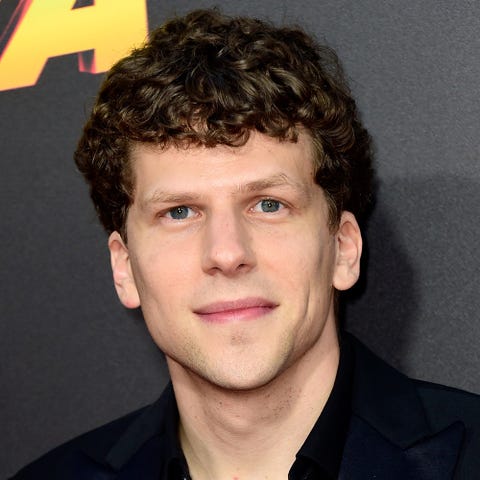 As seen on Jesse Eisenberg
The the previously mentioned crop, this style only has very slight changes in length between the sides and the top and, in this case, the ears. The shape is similar, but the length is longer to allow for more defined curls to show through. The fringe (bangs) is styled toward the front and cut in a straight line across the forehead to show off more of your texture.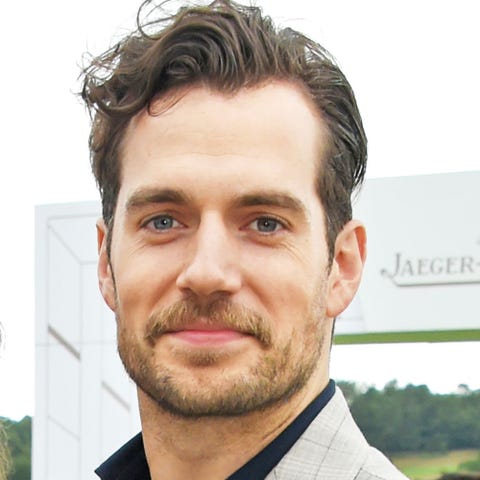 As seen on Jesse Eisenberg
This super look all comes down to styling. You'll want enough length on top to create a defined swoop, but how much you have on the sides doesn't matter as much. Use a high-hold product, like a matte-finish pomade, to slick the sides back with your hands, along with a styling cream on the top to give a more natural appearance. Finish the whole thing with hairspray to keep it in place.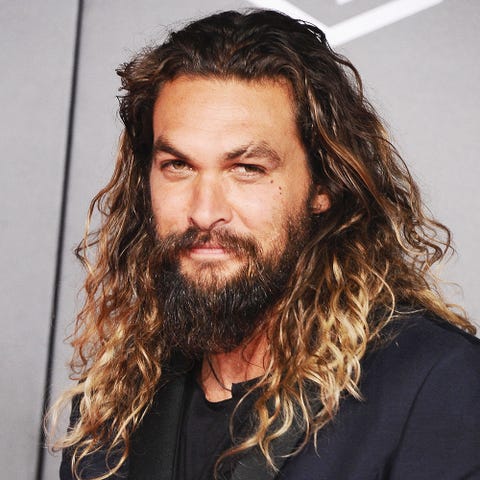 As seen on Jason Momoa
The longer the hair, the more curl it shows off, and the beauty of natural curls is that they're inconsistent. Showcasing the different textures in your hair is what makes this look seem cool and completely effortless. It also depends on length, so be patient and let your hair grow as long as you dare. And then give it a spritz of salt spray to help define the texture.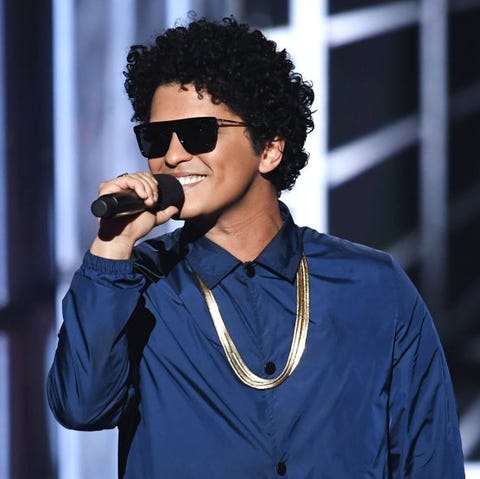 As seen on Bruno Mars
Unlike a longer fro, this shorter version doesn't require your curls be super tight and compact. It's more about the shape than the length. You're going for a round shape, nearly even on the sides and top, to create a frame of curls around your face. If your curls are looser, keep it on the shorter side to make sure they stay in place. If they're tighter, feel free to go a little longer.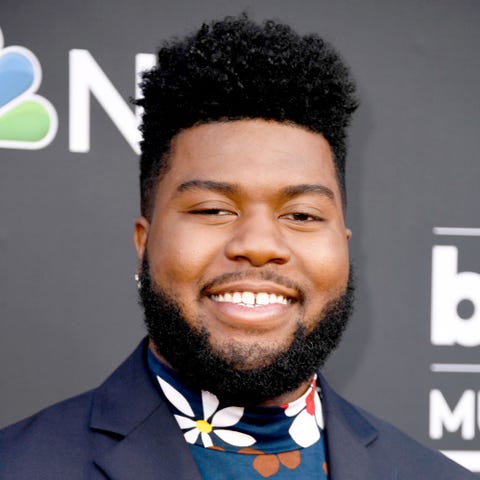 As seen on Khalid
The impact of this style is height, which helps to elongate and slim your face. Ask your barber to fade the sides of your head tight and continue that line straight up. Leave the length on top long (as long as it can get and still stand up straight.) Keep it modern by not cutting the ends and instead allowing them to create a textured edge and then style with with a pomade or wax for maximum hold.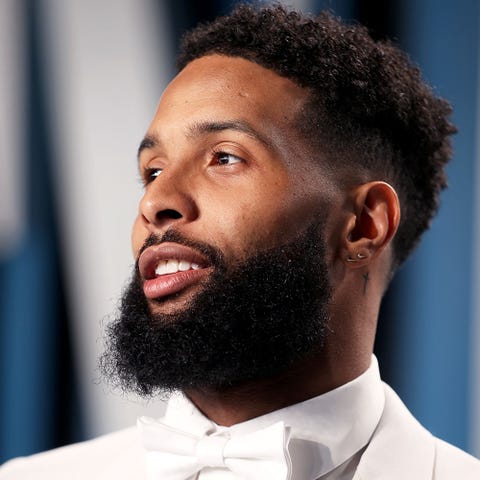 As seen on Odell Beckham Jr.
A low fade, instead of a high-and-tight, looks great with curly hair because it allows natural texture to really shine. Keep the length on the sides short, with the fade only in the lower half toward the ears and then allow for a somewhat blunt edge between the sides and the top. Keep enough length on top to show off the curls in their full glory.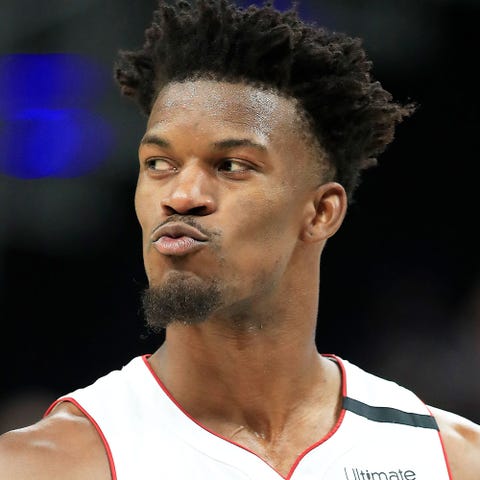 As seen on Jimmy Butler
This style is the love child between the Flat Top and the Low Fade: taking qualities of both but creating something completely different. Keep the fade just around the ears and instead of a graduation, ask your barber to leave a blunt edge. Then bring the length on top a little lower on the sides so it starts just below where your head curves in. Use a wax or gel to define the curls and give texture.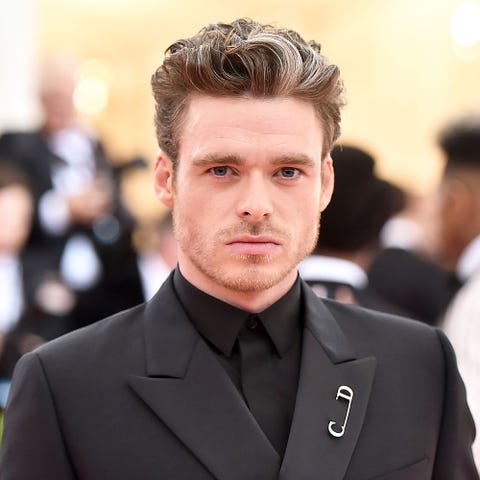 As seen on Richard Madden
Another slick style that's all about the volume, this one can't be done with clippers. Ask your barber to use scissors to cut the sides slightly shorter than the top, but leave enough length that they can be slicked back. Use a volumizing spray on the top as well as a styling cream or curl cream to create hold. Bonus points if you can get even more volume by using a hair dryer.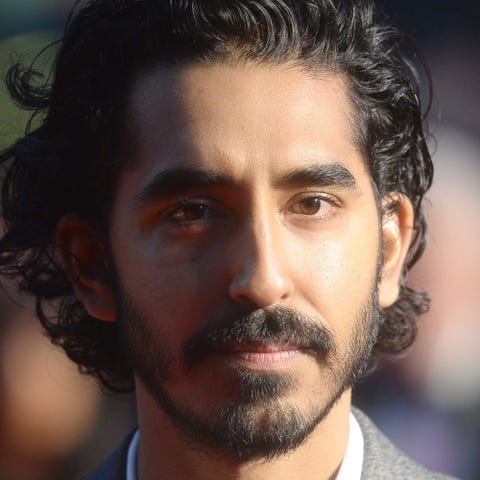 As seen on Dev Patel
The length on this style isn't the point—the cut itself is similar to the Royal or Let It Flow. Instead, to get a sleek, shiny (but not overly wet look), it's all about what products you use. A little bit of high-shine pomade on damp hair could do the trick—smooth it through and then let your hair dry naturally. Or for extra shine, use a little bit of hair gel (not too much or it will get crunchy.)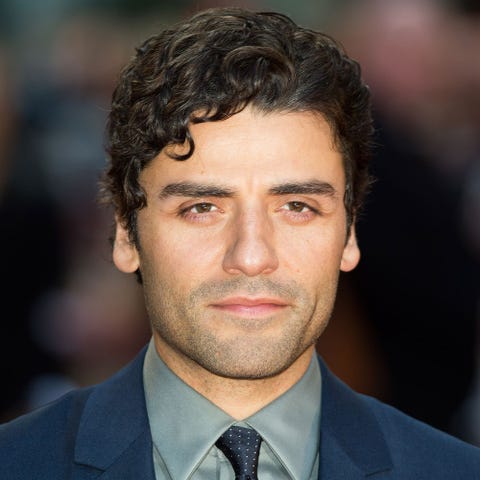 As seen on Oscar Isaac
The shape of this cut is ideal for curly hair, because the rounded edges mimic the texture of curls and allow them to shine. The sides are cut slightly shorter than the top, but not faded with a clipper. Instead, as the length graduates up, the angle is rounded to seamlessly merge with the longer length on top. Use a styling cream to create shine and texture with only a little hold.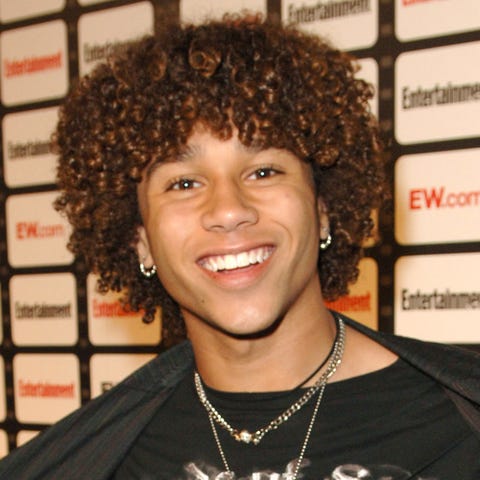 As seen on Corbin Bleu
Okay, this style requires a lot of hair and a little guts, but this version of the fro is great for guys who have a very defined curl that's not tight enough to stand up straight. Grow it out long and then have it cut into a sphere shape. Forget a taper on the neck, too. Keep it long all over your head for maximum effect.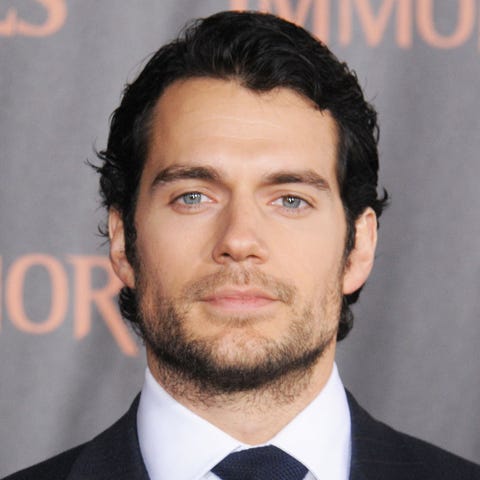 As seen on Henry Cavill
As long as you have a moderate amount of length, you can slick back even curly hair, a look that is ideal for formal occasions. Use a classic pomade and apply it to damp hair working it through from the back to front of your head. Shape it by smoothing the sides back and finding your natural part with your hands. Let it air dry or use a blow dryer for a sleeker look. Source: manshelth.com