20 STYLISH WAVES HAIRSTYLES FOR MEN 2021
The wave hairstyle has been around for decades, and it is back on trend in 2020. The style stands out with its ripple-like pattern and eye-catching texture and is a great way to change up your look if your hair is short. A versatile hairstyle, waves can be paired with a line-up, fade, taper, and more. All you need to create waves is a brush and pomade, the patience to brush your hair into the wave pattern every day, and a do-rag to hold it all in place overnight.
1. 180 Waves Hairstyle
The 'half waves' option – also called 180 waves – only requires you to create the ripple pattern on one section of your hair. Focus the waves on the crown of your head and leave the sides cropped or buzzed short for a standout hairstyle. Keep the whole look sharp with a precise line-up or shape up from your barber.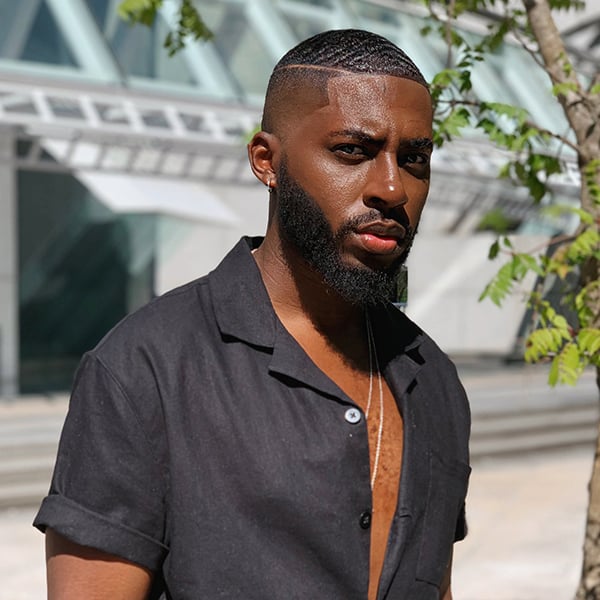 2. Short Wave
s
If your hair is very short, waves are one of the best styles you can get as they add some personality and definition to your style without needing to cut or shave any sections. Plus, waves are designed for shorter lengths, so they are a great option if you prefer to keep your hair cropped.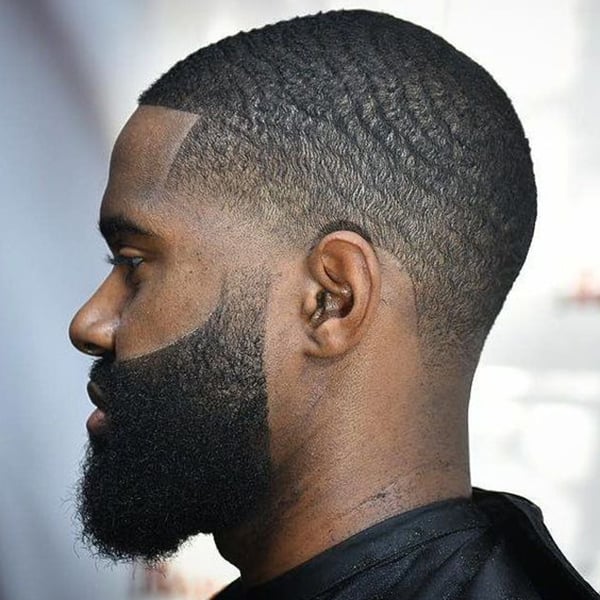 3. 180 Waves with Line Up 
Give your 180 waves hairstyle a unique twist with a line-up. Line-up is a striking and attention-grabbing haircut because its unique look draws the eye. Your barber can shave a sharp line into your temple or hairline, leaving your waves intact at the top of your head.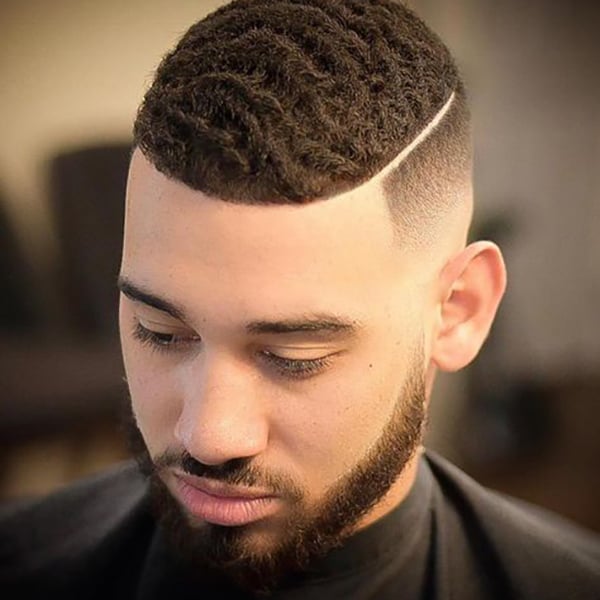 4. Blowout Haircut with Waves
While waves are usually suited to short hair, guys with medium-length hair can get a similar effect when they combine the wave technique with a blowout. This haircut – also known as a Brooklyn blowout or Afro blowout – is all about faded or tapered side sections with a lot of volume on top. You can brush this longer top section into waves to create a subtle ripple effect.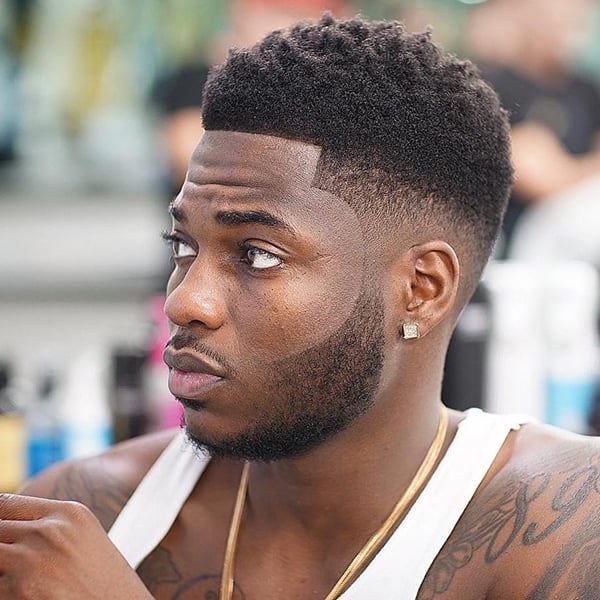 5. Waves Haircut with a Part
Similar to the waves with line up haircut, the waves-with-a-part hairstyle involves shaving a defined line into your hair to create the same effect as a parting. Rather than a center part, your barber will shave in a side parting, giving your haircut a dynamic, asymmetric look that contrasts with waves.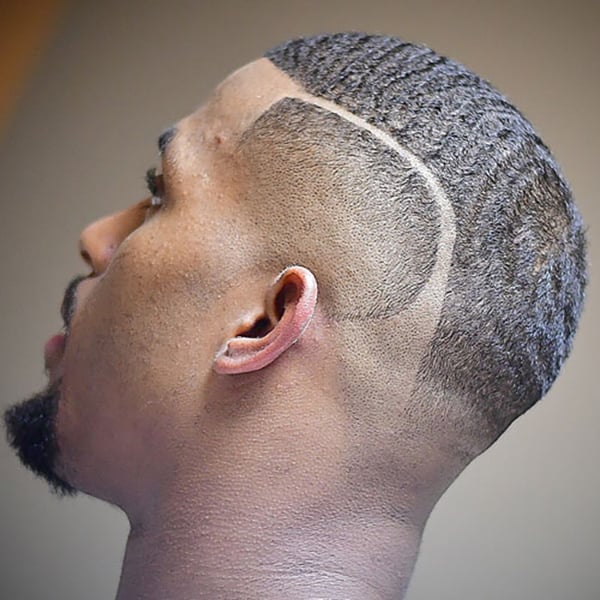 6. Waves with Beard
Waves are a versatile hairstyle and look great when paired with a beard – whether your facial hair is wide and full or short and groomed. One popular option is to connect your wave hairstyle with your beard through a sharp shape-up. Your barber will shave your hairline, sideburns, and facial hair into a stylish and sophisticated all-in-one look.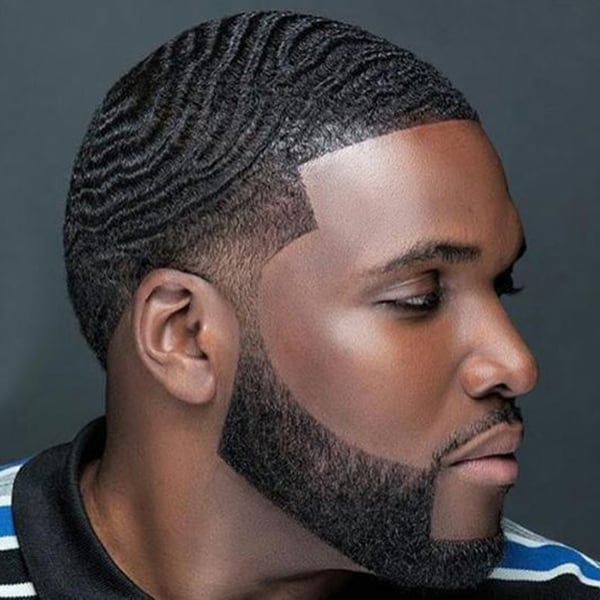 7. Half Moon with Waves
A half-moon is a subtle yet statement-making addition to a short haircut. The likes of Drake and Nas have also worn it. While it is usually added to a simple high-and-tight cut, a half-moon also looks excellent when paired with waves. That is because the shape of the half-moon creates an eye-catching contrast with the direction of the waves.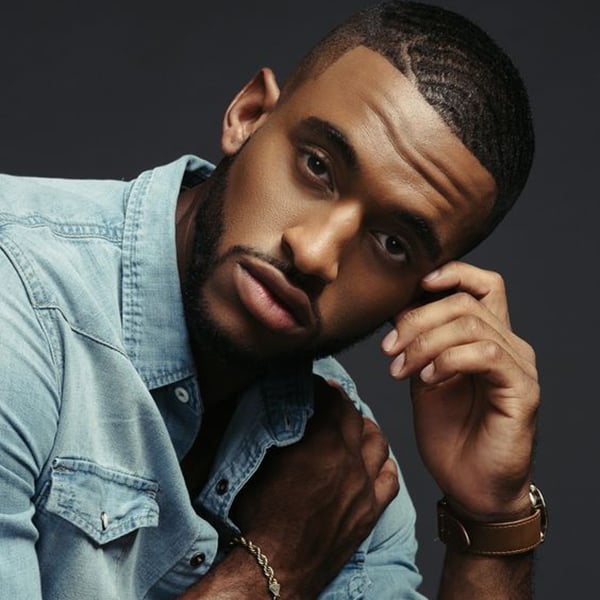 8. Two Half Moons with Waves
What's better than one half-moon? Two. Make a bolder style statement by adding a second shaved design to your wave hairstyle. Try two disconnected moons or join them together to create a unique result. The double design will make your waves stand out even more.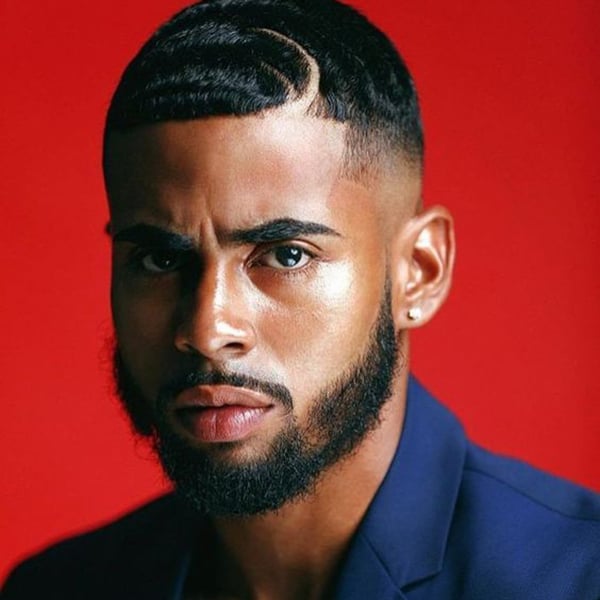 9. 360 Waves and Line Up
Make your 360 waves stand out with a sharp and precise line-up. Your barber will define your hairline and shave in angular lines or curves. The key is the contrast between the fluid look of the waves and the sharp angles of the line-up. It's a haircut that gives you the best of both worlds.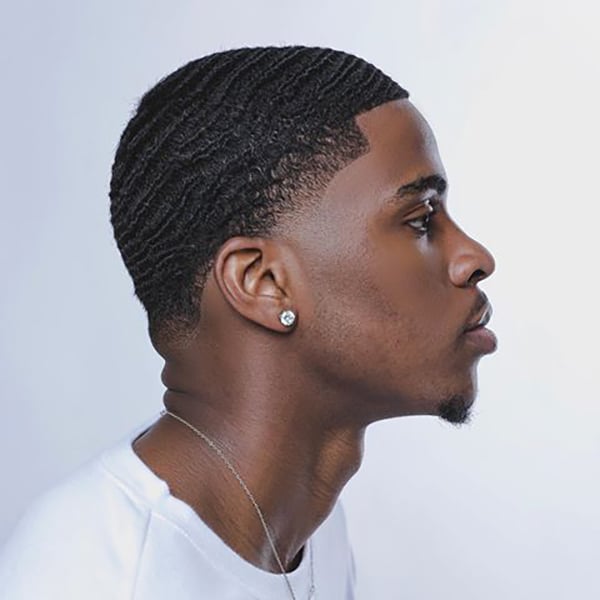 10. High Fade Waves
Fades have been a popular haircut for black men for decades and never go out of style. One of the most sophisticated versions of this cut, the high fade, begins above the midway line between the temples and ears. It's a stylish option if you are looking for a more professional take on 180 waves.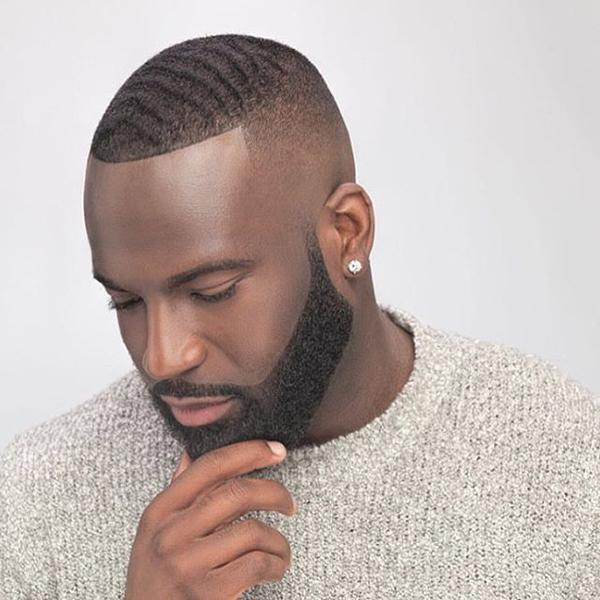 11. Temp Fade Waves
A temp fade is a type of taper cut that begins around the temples. Instead of creating a sharp contrast – as a hard parting or line-up do – the temp fade instead fits with the organic feel of the waves hairstyle. Instead of abruptly stopping, the waves are gradually blended into the fade. The result is an understated, subtle, and sophisticated look.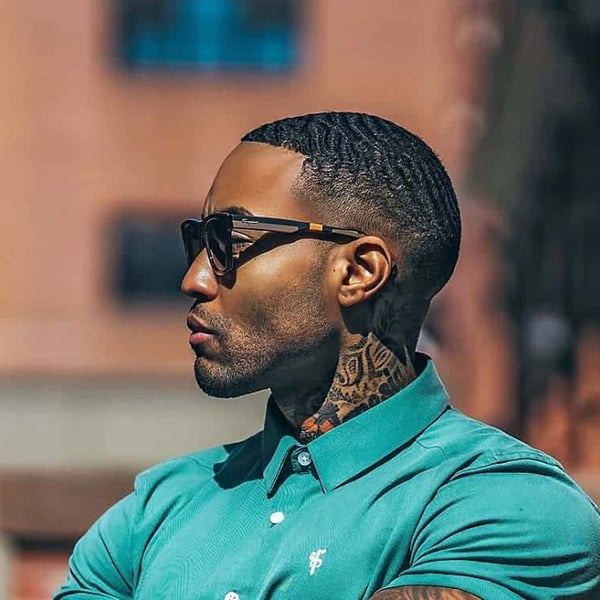 12. Skin Fade Waves
A skin fade is a modern, sophisticated, and low-maintenance haircut, and it looks great when paired with waves. Similar to a temp fade, a skin fade gradually blends the waves out. However, instead of fading into shorter hair, the waves are faded down to the skin. Sleek and cool, skin fade waves are a sharp look for any man.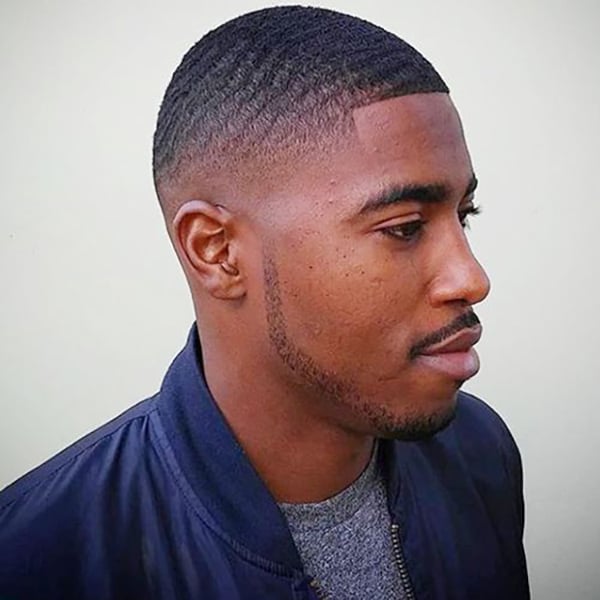 13. Drop Fade with Waves
There are many different types of fades to choose from, but the drop fade stands out from them all. Unlike other versions of this cut, the drop fade does not blend hair evenly – instead, the fade starts around the temple and 'drops' down behind the ear for an edgy and unusual look. Because of its curved appearance, the drop fade is a great partner for a wave hairstyle.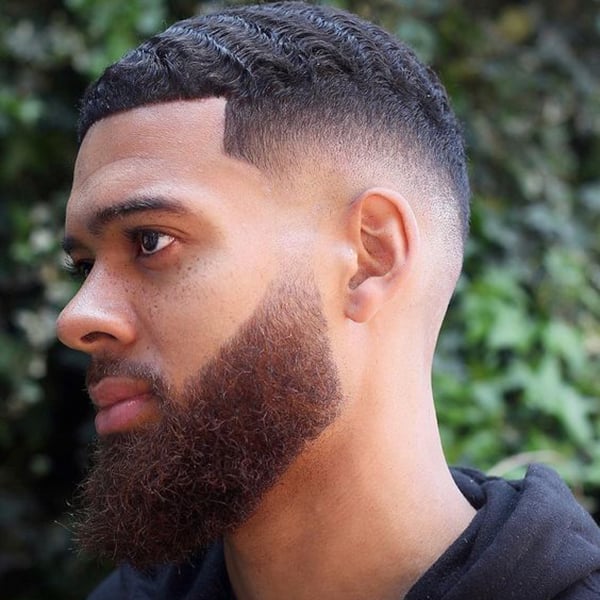 14. Low Fade with Waves
A low fade usually begins around the top of your ears, below your temples, and gradually tapers the hair down to the shortest length. To get the low fade effect while maintaining 360 waves, your barber can create a half-faded look. This cut restricts the low fade to the front section of hair while leaving your waves intact at the back.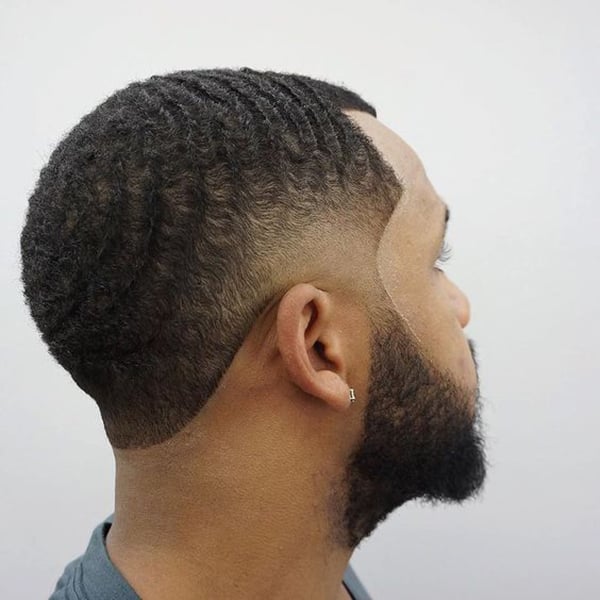 15. Mid Fade with Waves
A mid fade is halfway between a high fade and low fade and ends between your temples and ears. Often combined with a bald fade or skin fade, it's a versatile and sophisticated cut that still has attitude. When combined with 360 waves, it creates a smooth, graduated haircut that still has an edge. Add a shape up and beard for extra style.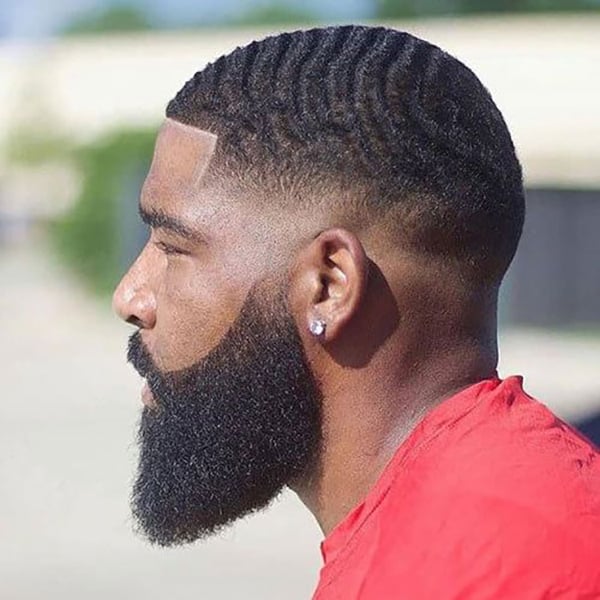 16. Bleached Waves
For a truly bold and attention-grabbing look, reach for the bleach and make your waves icy platinum. Stars like football player Odell Beckham Jr have embraced the blond look. While dye and bleach can make your hair dry – particularly if it already has a coarse texture – it won't necessarily destroy your 360 waves. To maintain your waves while lightening your hair, make sure you apply and comb through the bleach in the same direction as your waves. Once the bleaching process is finished, simply wash and condition your hair and brush your waves as you usually would.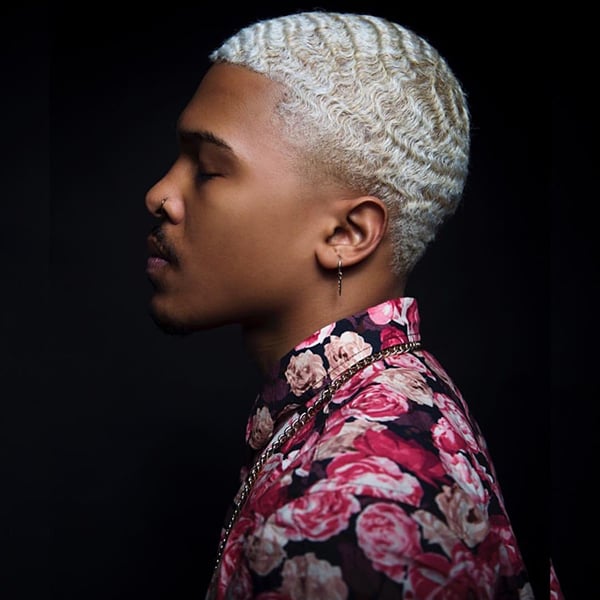 17. Waves with Sideburn Fade
While many men choose a high, temp, or low fades, there is another option: the sideburn fade, also known as tapered sideburns. This cut draws attention to your eyes and cheekbones and can make your face look more defined. Instead of fading your waves at the side of your head, your barber will begin at your hairline. Next, they will gradually blend the hair down to your jaw. The cut looks even better when paired with a sharp line-up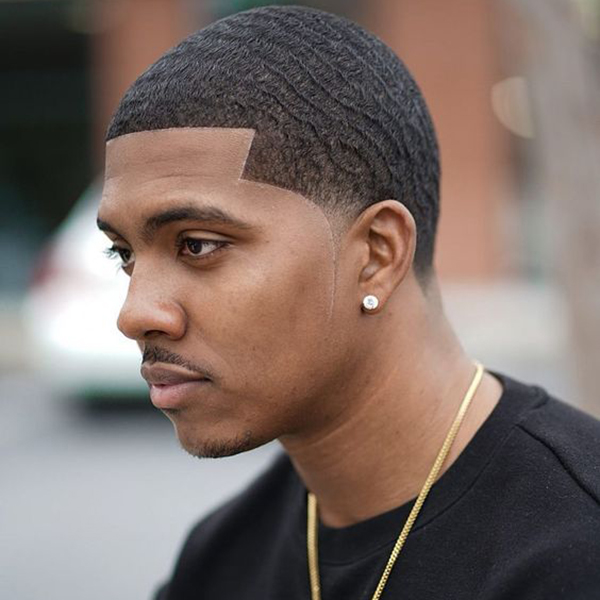 18. Taper Fade Haircut with Waves
Guys who want a '90s-style look could try the taper fade with waves haircut. Rather than the bold, sharp look of a skin fade, the taper fade gives a more subtle effect. You can combine it with a more natural and soft hairline and blend the taper into your beard for a face-framing and flattering final look.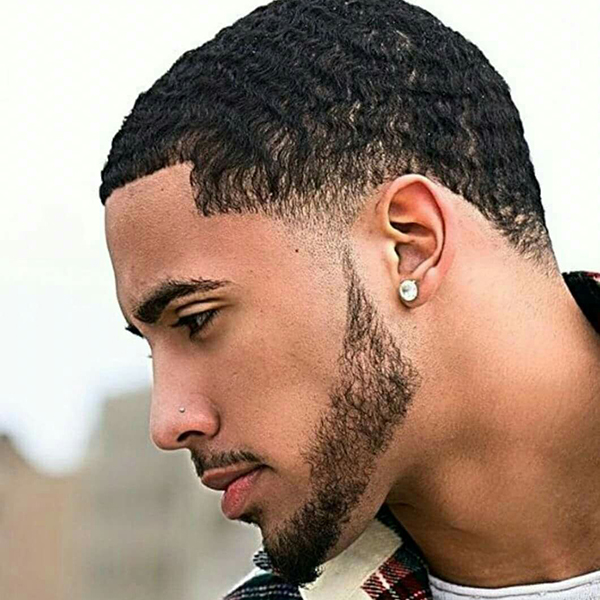 19. 360 Waves Hairstyle
The classic version of the hairstyle, 360 waves, creates a circular ripple effect all over your head. Also known as spinnas, 360 waves are one of the most popular hairstyles for black men and always attract attention. While waves look great, they do take some time to create, so make sure you are committed to the style before you start.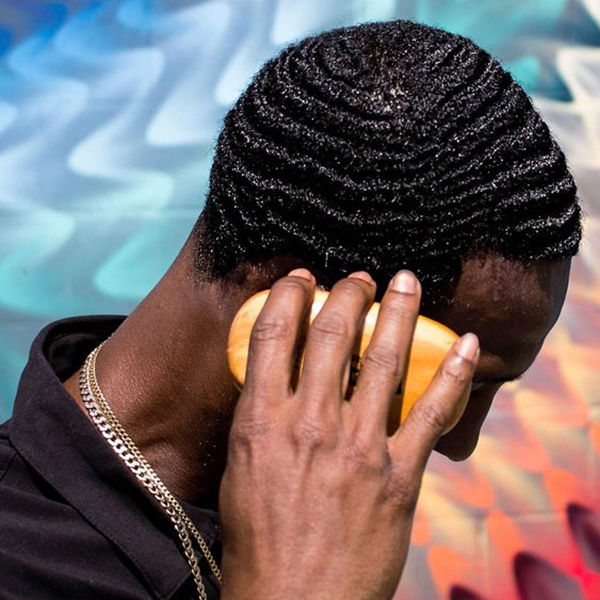 20. Bald Fade Waves
Fresh and contemporary, a bald fade looks excellent when paired with any short or medium-length haircut. It is similar to a skin fade but less gradual; hair goes from long to short to bald in a smaller area. For that reason, a proper bald fade usually requires a professional who can precisely blend the hair lengths. When it comes to waves, a high bald fade provides a cool and striking contrast.